A Sussex Wave from Japan
The colour woodcuts of Eric Slater and Arthur Rigden Read
May 27th - September 3rd 2017

This exhibition showed how two Sussex artists mastered Japanese printmaking techniques to evoke life in the county between the wars, gaining international recognition as a result.

The exhibition was at Hastings Museum & Art Gallery, from May 27th to September 3rd 2017.

On Saturday July 1st 2017 at 2pm, there was a free talk at the museum by James Trollope, author of Slater's Sussex.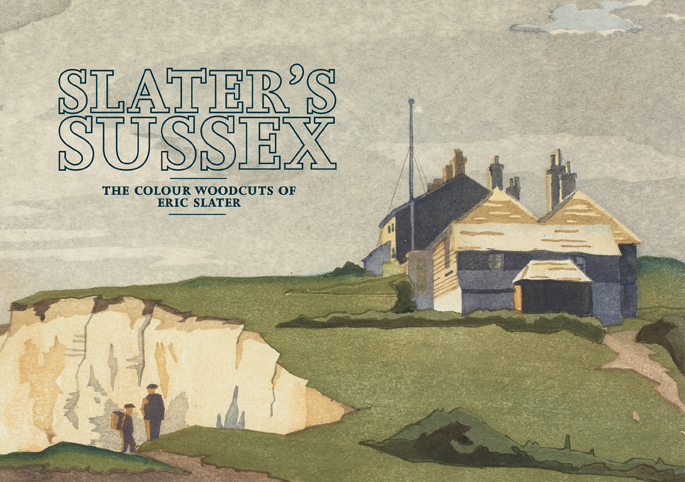 BOOK
Slater's Sussex – The Colour Woodcuts of Eric Slater
Following on from the popularity of Eric Slater's colour woodcuts in the collection display A Point of Departure, the first book on the artist, written by Slater expert James Trollope, is available now.

Crypt Gallery, Seaford
14th & 15th Nov 2014

One of the exhibits at a Slater show at the Crypt Gallery in Seaford was this new poster of the Slater Trail, now displayed on the town's seafront. More information about the trail here.


Slater events in 2014

Eric Slater was the subject of a supper talk in Hastings in March, and a free exhibition at the Turkey Barn, Seven Sisters Visitor Centre in September.

If you couldn't make it to these events, watch out for more Slater exhibitions and talks.



Eric Slater at Lewes House
Eric Slater's colour woodcuts were on show at Lewes House in the High Street for during December 2013.

The ground floor of the former HQ of Lewes District Council was converted into an art gallery.

James Trollope's book about Slater, Slater's Sussex, was on sale, along with Slater greeting cards and two new giclée prints, Seaford Head and Early Spring.


Eric Slater: The Return
8th and 9th November 2013, Seaford
On the 50th anniversary of his death some of Eric Slater's colour woodcuts went on show in Seaford where he spent most of his life and where he produced his best work.

Eric Slater moved to East Albany Road in the town in 1929 and lived there until his death in 1963, making over 40 evocative prints of the landscape around him. More than a dozen of his prints and watercolours, including some new discoveries, went on display at the Crypt Gallery in Church Street Seaford on November 8th and 9th 2013.

Over 600 people came to see Slater's return. There's more information on the Eric Slater Facebook page.

The author of Slater's Sussex, James Trollope, said: "It's great that his prints returned to his home town. He's no longer a forgotten artist as more and more people are appreciating his talent."



The work of Eric Slater had not been displayed for more than 70 years but featured in an exhibition at the Towner Gallery in Eastbourne from 12 May to 11 November 2012. A Point Of Departure, also included works by Edward Bawden, John Piper and Eric Ravilious. It explored the edge of the Sussex landscape; the beauty and drama that unfold where the South Downs meet the sea.

"Slater ... was the highlight" - Theatrical Eastbourne blog
"What was so special about this exhibition was ... woodcut prints by the long forgotten Sussex based artist Eric Slater" - Paisley Pedlar blog
"Seeing so many of Slater's colour woodcuts together is probably an opportunity no one should really miss" - Modern Printmakers blog

James Trollope visiting A Point Of Departure
Eric Slater (1896-1963) (from the exhibition signage)
Towner has worked closely with James Trollope, and the British Museum, to assemble a selection of Sussex woodcuts by the forgotten artist Eric Slater.
Slater's printmaking was revered during his relatively short career, and much admired by Campbell Dodgson, then Keeper of Prints at the British Museum.
Born in London, Slater moved to Sussex at the age of eight. It is thought the print-maker Arthur Rigden Read (1879-1955) was his neighbour in Winchelsea and taught him how to make woodcuts. Rigden Read had been to Japan to study oriental woodcut techniques. Slater spent three years studying at Hastings School of Art, before settling in Seaford in 1929, where he lived for the rest of his life.
Between 1929 and the beginning of the Second World War he produced over 30 colour woodcuts. Slater was admired for his mastery of the woodblock technique and gained an international reputation, exhibiting in Australia, New Zealand, Canada and South Africa, as well as Europe. He was a member of the Society of Graver Printers in Colour and the Society of Print Makers of California.
The Sussex landscape provided inspiration for his work and he depicted many views of the south coast, its coastline, cliffs and seaports. His prints are characterised by a simple and harmonious style and colour scheme, which belie the technical virtuosity of the medium.