THE COLOUR WOODCUT TECHNIQUE
In 1916 an artist/teacher called Frank Morley Fletcher wrote a manual called Wood-Block Printing which describes the process step by step. What follows is a greatly simplified description. While wood engraving involves cutting against the grain, woodcuts are made by cutting a number of smallish planks or blocks with the grain. Each colour will probably have a different block. Slater tended to use about ten blocks per print.
You cut and gouge out the areas you donít want, producing an image from the protruding parts of the wood (relief printing). You cover those parts with watercolour mixed with rice paste and press on to the block a damp sheet of high quality paper. You set the paper in such a way that one block can be printed over another. Each print is handmade usually in an edition of up to 200.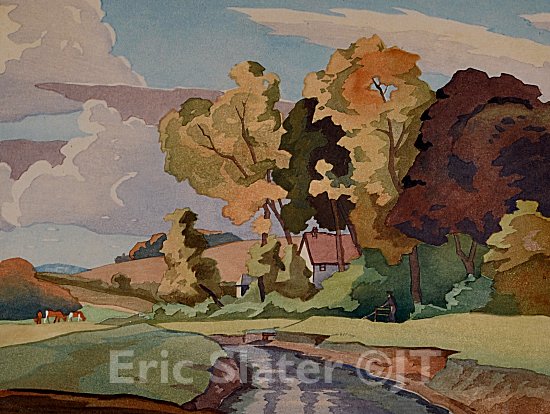 Autumn Morning, Eric Slater